Travel Back In Time To Collect Some Legendary Treasures
Did you ever dreamed of playing an important role in history? Did you ever felt the desire to build a time travel machine to travel back into the past and meet the greatest rulers and heroes from ancient periods? Then this is your opportunity to bend the rules of time. These 7 History Themed Slots provide you with the once in a lifetime opportunity to travel to ancient empires and fight legendary battles. During your adventures, you get to meet various famous (historical) figures like Julius Caesar, the emperor of the mighty Roman Empire, Ares, the powerful Greek god of War and also Oogh the caveman. You get to fight ancient battles at the walls of Troy and at the lands of the powerful Spartans. You also go on a gold hunt during the legendary American gold rush and you have the amazing opportunity to travel back far in time, when dinosaurs still roamed the earth. Last but not least, you also get to meet the legendary and very wealthy Aztecs. Do all these opportunities make you excited? Then jump in your time travel machine and visit the top 7 history themed slots today.
1. Caesar's Empire Slots
Caesar's Empire slots from software developer Real Time Gaming. This 5 reel game takes you back in time to a period that was dominated by war and the need to get as powerful and wealthy as possible. Embrace yourself and be brave, because you are going to search for some of the most glorious treasures that are known in this ancient civilization. You are going to need the strength and confidence of a fierce full warrior to claim your prize. Look for Julius Caesar when you spin the reels. This mighty ruler and warrior can be of great assistance to you, when he shows up on the slot reels. There is an old saying that all the ways lead to Rome. Now you can add that all the 20 pay lines lead to richness in Caesar's Empire Slots.
2. Ares: the Battle for Troy Slots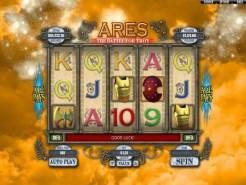 In Ares: The Battle of Troy Slots from Genesis Gaming, it is your turn to earn large sums of cash and rewrite the history books. This time, you go all the way back to the legendary battle for Troy. You play your part in this battle, and there is one simple mission that needs to be completed. You need to join your fellow Greek warriors and conquer the mighty City of Troy to retrieve Helen. You are about to become very rich once that task is done, because there are plenty piles of silver and gold that are stashed inside the city. Do not waste any time, because those piles of treasure are waiting for you. Grab your helmet and your armor and make sure that the enemy runs away in fear. Fight a glorious battle and become as powerful and money hungry as Ares, the strong Greek god of war. This legendary odyssey takes place on a slot with 5 reels and 243 winning opportunities.
3. Gold Rush Slots
4. Spartan Warrior Slots
5. 2 Million BC Slots
2 Million BC slots .
6. Back In Time Slots
Back in Time slots . The baby dinosaurs that you meet in this game, are really cute and small. The cash prizes are definitely not small though. They make the time travel trip definitely satisfying. Simpler times ask for simpler slots, and that is exactly what you get with this classic 3 reel and 8 pay lines slot title from casino game developer Betsoft Gaming.
7. Aztec Treasures Slots
Aztec Treasures slots from developer Betsoft Gaming has 5 reels and 30 pay lines.
Become The Most Successful Slot Game Player In History
Are you ready to become the most successful slot game player in history? Time will certainly tell. Head over to your favorite online gambling platform and set out on an historic quest that will hopefully reward you with a lot of special treasures from far away times. Your slot machine is now also your time machine, so push the buttons and make it spin, because a lot of historic figures from the past are waiting for you in the top 7 history themed slot games.