Dive Into A Life Full Of Fortune With The Best Ocean And Underwater Themed Slot Titles
Get out your diving gear because you are about to make an adventurous journey to the depths of the seas. You will be able to these depths when you play the best ocean and underwater themed slot titles. The mysterious and fascinating underwater world has a lot of good things to offer. Luckily, it mostly offers sunken treasures that are forgotten by others, and these treasures are hidden in underwater places that are unexplored by other people. By spinning the reels of the best ocean and underwater themed slot machine titles, you have a unique opportunity to become the first fortunate diver who is able to find and recover all the sunken treasures. That means that you will quickly go from seeing the wonderful bubbles of the sea to tasting the delicious bubbles of your champagne bottle.
Cash Money Mermaids Slots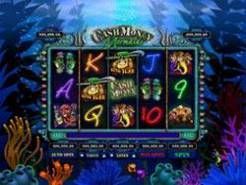 Many cultures from all over the world have folklore tales that involve the mythical and mysterious mermaids. However, these tales will most likely not talk about the kind of mermaids that are the main characters in Cash Money Mermaids Slots from developer Genesis Gaming. The mermaids in this 25 pay line slot title get really excited about music and cash. When there is music, there is often also a DJ, and that is the role of DJ King Tune in this game. While you spin the 5 slot machine reels, he spins the finest tunes during an exclusive underwater VIP party. He and his mermaid entourage are on a mission to give you the best party time ever, and you will party even harder when you notice that these mermaids are so generous to guide you to various sunken treasures.
Lost Secret Of Atlantis Slots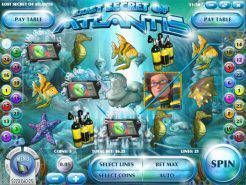 Have you always been attracted by mysterious underwater worlds and the sunken treasures that they hide? Then you should definitely spin the 5 reels of Lost Secret Of Atlantis Slots. In this 25 pay line slot title from Rival Gaming, you will team up with an ambitious marine explorer. She uses her submarine to find the famous city of Atlantis. It has always been a mystery how, when and why this mythical city and its fabled treasures sunk to the depths of the ocean, but now you have the ability to use an advanced GPS system, 25 pay lines and a submarine, to find out where the city and its many treasures are hidden. Will you become famous as the explorer who found Atlantis? The reels of Lost Secret Of Atlantis Slots will definitely provide and answer to that question.
Ocean Treasure Slots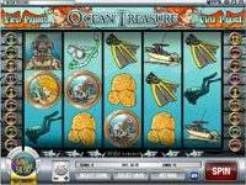 Are you ready for a truly life changing underwater slot machine game adventure? Then put on your scuba suite and prepare to dive five reels deep into Ocean Treasure Slots from popular developer Rival Gaming. In this 15 pay line game, the biggest mysteries of the underwater world will definitely reveal themselves to you. However, you only get to see them if you have the courage to dive far into the unknown depths of the ocean. Luckily, you get some support by various mystical underwater creatures, who offer their help to guide you in this vast and dark world. It will only be a matter of time before you find some buried treasures on the unexplored ocean floor. Do not wait until you run out of air to breath. Spin, swim, and dig your way to a wealthier life.
Under The Sea Slots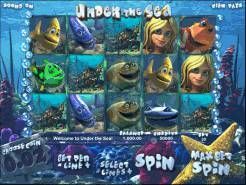 Are you ready to discover what kind of treasures and other alluring surprises lie beneath the sparkling surface of the deep blue sea? Then you should definitely get ready to make that adventurous dive into the unknown with Under The Sea Slots from online slot machine title fabricator Betsoft Gaming. The wonderful hidden elements of the underwater world will definitely entertain and surprise you. During your 5 reel, 30 pay line underwater adventure, you get an opportunity to view all the colorful 3D animated fishes who swim in the coral reefs, and you even get to meet a beautiful mermaid. Rest assured that you will not leave this extraordinary ocean world without some buried chests full of sparkling treasures.
Whale O' Winnings Slots
Whale O' Winnings teams up with some close friends, and together they undertake various adventurous undersea exploits in this alluring 5 reel and 50 pay line slot title from developer Rival Gaming. Whale O' Winnings likes you to come along as well, so that he will be able to show you how his underwater world looks like. Thanks to the beautiful graphics and the recognizable symbols, you will have a realistic deep sea experience. Some of the available symbols in this game are a clam, a sea urchin, a life saver and of course the whale and his friends, which are a sea lion and a dolphin. Remember to not get distracted too much while you explore the magical undersea world, because you also need to pay attention to all the sunken treasures that are hidden everywhere.
Let Your Body Sink Down And Your Money Rise Up While Playing The Best Ocean And Underwater Themed Slot Titles
Dive to the bottom of the sea and let your bank account balance rise to the surface of a wealthy life full of pleasures. Waves of cash and bubbles of champagne await you in this luxurious new life. All you need to do is to find a suitable online casino platform, where you will be able to play your favorite underwater casino slot games and explore the enticing depths of the oceans. It is time to spin yourself towards sunken treasures that are long since forgotten by mankind. However, you know of their existence now, and you know that these treasure are ready to be claimed by you. During your exploits in the oceans, you receive help from other explorers and a variety of friendly sea creatures, which include a whale, a dolphin and numerous trendy mermaids.