Get Enchanted By The Best Fairy Tale Themed Slot Titles
Once upon a time, there were a lot of attractive and rewarding fairy tale themed slot titles. They managed to entertain slot game enthusiasts for many hours. However, only a handful of these games had the power that was necessary to become truly legendary slot machine titles. These games are still loved by many players and they still prove that they are the best fairy tale themed slot titles. Will you be able to spin the reels of these games successfully? Success means that you get to take home the biggest prizes, and that you can live happily ever after in your very own fairy tale castle.
Arabian Tales Slots
Do you enjoy reading the stories of One Thousand and One Nights? Then you should definitely grab your digital carpet and fly to Arabia with the help of Arabian Tales Slots from Rival Gaming. A beautiful Arabian princess awaits you in this 50 pay line game, and she will entertain you with many tales of magic and fantasy. Spin the 5 reels of Arabian Tales Slots today, and form your casino story with the help of magic lamps, genies and tigers. These symbols will help you to fulfill your gambling wishes. Make sure that you bring a strong flying carpet, because it needs to be able to support all those bags of cash that you take home after your Arabian Slots adventure.
Candy Cottage Slots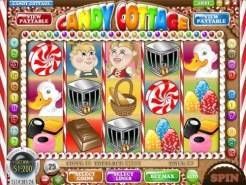 You are probably familiar with the fairy tale story of Hansel and Gretel. In this story, the brother and sister encounter a delicious house that is made out of cake and other tasty decorations. Candy Cottage Slots lets you relive the tail of these two children. A tasty cottage awaits you deep in the forest. But be aware, because you know that some things are to good to be true. An evil witch is the resident of the cottage, and she has different ideas on what is tasty. But do not worry too much about her nasty eating habits, because you have plenty of opportunities to still your own hunger for money and candy when you play this 5 reel and 20 pay line game from Rival Gaming.
Dragons Slots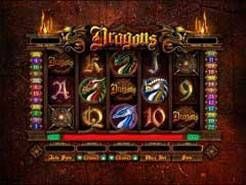 Dragons are usually an element of fear and power in fairy tales. That is also the case when you play Dragons Slots. In this game, you need to gather all your courage to fight these mythical creatures. Always make sure to dodge their dangerous claws and breaths of fire when you fight them. It is a dangerous task, but you should know that dragons like to collect and guard valuable treasures. These treasures are yours to claim when you manage to conquer the fearsome beasts. Defeat them and walk away as the honorable hero in Dragons Slots.
Enchanted Slots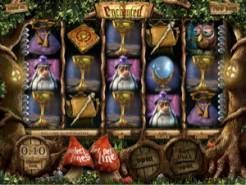 Enter a magical world of fortune and fantasy when you hit the play button from Enchanted Slots . Ordinary is a thing of the past, and the supernatural becomes your playground in this 5 reel and 30 pay line slot title from Betsoft Gaming. You will encounter many wizardry charms and spells in this game. Unfortunately, you will also encounter evil elements that prevent the creatures in Enchanted Slots from experiencing their own happily ever after. One particularly mean element is the Ogre Rufus. He has stolen Feera's birdie and she wants it back. Help to restore peace in the enchanted forest, and you might walk away with a magical bag of cash.
Fantasy Fortune Slots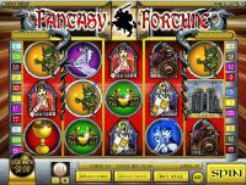 Fantasy Fortune Slots boasts a variety of magical fairy tale elements that will keep you entertained for many hours. Spin its 5 reels and marvel at the mystical unicorns, medieval castles and pretty princesses that roll over the screen. When you play this 20 pay line game from Rival Gaming, you get all the fairy tale action and romance that you desire. Fight the evil dragons and the dark knight, rescue the beautiful princess, claim your valuable reward, and live happily ever after as a brave and honorable knight in shining armor.
Genie's Fortune Slots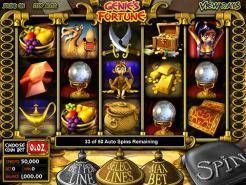 Genie's Fortune Slots welcomes you to a fairy tale world, where the friendly genie grants you precious wishes. All that you have to is rub the magic lamp, and then the generous spirit will present himself to you. Together, you guys will fly away on a magical carpet. During this enchanting experience, you have the opportunity to inform the genie about your most desired wishes. As a slot game enthusiast, you are probably in search of great fortunes in this 5 reel and 30 pay line game. Let that wish be fulfilled when you play Genie's Fortune Slots from Betsoft Gaming.
Gnome Sweet Home Slots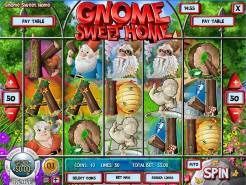 Are you ready to meet the friendly bearded gnomes from Gnome Sweet Home Slots? These funny little persons are going to help you to score large amounts of cash on the slot machine reels. Expect a lot of extra little helping hands, because the complete gnome family stands at your side in this 5 reel and 50 pay line slot title from Rival Gaming. Enjoy your time with them in their cute garden and cozy gnome sweet home. You surely will be a lot richer at the end of the day.
Snow White Slots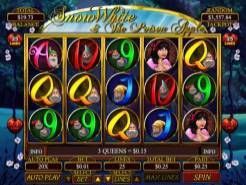 Mirror, mirror on the wall, who is going to be the most successful slot reel spinner of them all? That person could definitely be you when you decide to play Snow White Slots. This entertaining game introduces you to the popular fairy tale of Snow White and her seven dwarfs. Spin the reels of this alluring game and try not the get poisoned by the evil and wicked queen. A kiss from the prince and a bag of coins are welcome gifts though. Those rewards will certainly make you sing hi-ho, hi-ho.
Greedy Goblins Slots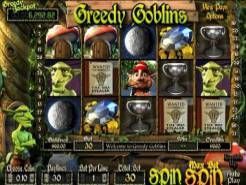 Spin the reels of Greedy Goblins Slots and enter a mysterious and magical forest that hides many rewarding treasures. However, always be on the lookout for those annoying goblins, because they are on a mission to steal the loot from you. Luckily, you will not only encounter mean and greedy goblin when you spin the 5 reels of this 30 pay line game. There are also cute and friendly looking elves in the forest, and they really want to help you during your quest for richness. They offer protection against the goblins, and they also offer you various lucrative slot game features. Greedy Goblins Slots is powered by your favorite magic software creator Betsoft Gaming.
Once Upon A Time Slots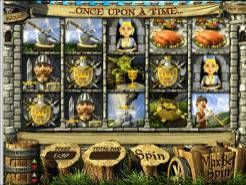 Once Upon a Time Slots introduces you to a very unlikely fairy tale. The usual characters, like the kidnapped princess, the brave knight and the evil dragon, are present in this story, but it is still very much unclear how this fairy tale will end. Do you want to find out if this tale has a happy ending? Then spin the 5 enchanting reels of this 30 pay line game from Betsoft Gaming and make the story complete, because so much details have yet to reveal themselves. Will the noble knight be able to defeat the vile dragon? Will he manage to win the love of the princess? And, most importantly, will you be rewarded for bringing this amazing story to a good end? Happily play Once Upon A Time Slots and shape your very own fairy tale ending today.
Pinocchio Slots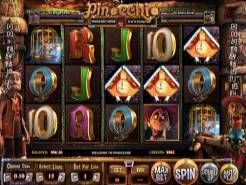 Pinocchio is a very special boy, and Pinocchio Slots is the special slot machine title that is based on the extraordinary story of this little wooden puppet who so desperately wants to become a real boy. This entertaining 5 reel and 15 pay line slot machine title from Betsoft gaming brings the beloved fairy tale alive, and you get to enjoy it from a lucrative perspective. Support Pinocchio in his quest to leave Gepetto's wood shop, so that he can discover the outside world. Make his dream become reality, and claim generous prizes as a reward for doing so.
Play The Best Fairy Tale Themed Slot Titles And Live Richly And Happily Ever After
You will spin your way to a very enchanting life when you play the best fairy tale themed slot titles on your favorite gambling website. Let these games take you to a variety of magical places. Once there, you will meet a lot of special creatures that love to be your generous friend. These creatures make sure that you get all the excitement and profits that you can ever wish for. The blessing of living happily ever after really falls upon you when you open up to the magic of the best fairy tale themed slot titles.