Turn Your Bets Into Pure Gold With The Best Gold Digging Slot Titles
Are you ready to strike the absolute mother lode while playing the best gold digging slot titles in online casinos? It is your turn to become unimaginably rich when you manage to spin the right symbols and dig the right holes in the ground. Mining is a dirty, dangerous and tough job, but you will find out that mining for gold on a slot machine is a lot easier and fun, and it will make you just as rich. Do not wait any longer and start to spin those reels, dig those holes and blow up those boulders.
Gold Diggers Slots
It is your lucky day, because you are going to dig up precious metals in Gold Diggers Slots from solid gold developer Betsoft Gaming. This dirty but lucrative 30 pay line and 5 reel slot game lets you dig for richness in the deep, deep depths of mother earth. Don't forget to bring your mining tools, because you will need them to dig, shovel and blast your way to huge fortunes. Make sure that you also bring a good flashlight, because it would be a shame if you could not see what kind of pleasant surprises are hiding in the dark.
More Gold Diggin Slots
It is never too late to pull some valuable metals out of the earth, and it is even better if you get to do it again and again. Betsoft Gaming's More Gold Diggin Slots is now giving you the chance to dig up some more loot. When you played its predecessor Gold Diggers Slots, you will know that you have a lot to gain when you dig into the earth. But now even more gold is coming your way, and your friendly mining buddies Jeb and Cletus are back to help you with the task of extracting it out of the ground. All that you have to do is set the whole mining process in motion with the 25 pay lines and 5 reels from this precious online slot machine title.
Diggin' Deep Slots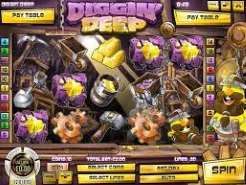 Grab your helmet and spark up that mining lantern, because you are about to dig deep with Diggin' Deep Slots from Rival Gaming. This slot title puts you in control of a very lucrative mining operation. It is dark and dangerous in the depths of the earth, but a bunch of funny mining friends will make sure that you stay in a happy and cheerful mood during the digging process. But there is also one nasty little creature that is on a mission to make you a bit unhappy. This grabby and sneaky little goblin has a lot of mean tricks in his bag, so make sure that you protect you're newly found gold and that you get out of the mine unharmed.
Dig Up Your Most Valuable Winnings With The Best Gold Digging Slot Titles
Are you heavily struck by the gold fever? Then there is no better time to play the best gold digging slot titles at your favorite prize mining casino. These powerful gold mining themed games promise to bring you richness behind your wildest dreams. Do you already know the exact spots where you need to dig, to be able to pull all that precious gold out of the slot machines? Use your tools, slot reels and pay lines to show some serious mining skills, and become known as the casino golden boy or girl among all your fellow gamblers.