Top 5 Western Slot Titles
Online casino's open up their saloon doors and invite you to play the top 5 western slot titles. Keep in mind though, these games are not suitable for the soft-hearted players. The Wild West was a period in time when outlaws and bandits roamed around to cause havoc in small frontier villages that struggled to keep the peace with the land and its surrounding dangers. But if you have a bit of a wild character and a good trigger finger, then you might find these games very suitable. After all, in a lawless and wild time with a lot of risks, you can often also find a lot of big rewards. Claim these rewards by becoming a bandit yourself, or decide to play the good guy and help to keep people safe and alive in these harsh time. It is all up to you when you play the top 5 western slot titles.
5. Take a Walk on the Wild Side with Pistols & Roses Slots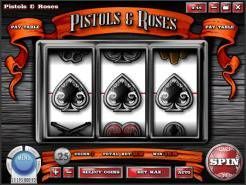 Aim for the reels and hit your winning targets with the very exiting Pistols & Roses Slots title. This one pay line slot game is a straight shooter with a no-nonsense attitude and a wild set of three reels. Go for it with your guns blazing, because when the smoke clears, you want to be the one that walks away into the sunset with a big bag of loot. Coins are your bullets in this game, and it is up to you if you hit the reels with a single lucky coin shot of $0.01, or if you barrage them with a heavy caliber $30.00 and 3 coin bet. Play this Wild West and rock themed slot machine in any Rival gaming powered casino.
4. Trigger a downpour Of Precious Coins in Rain Dance Slots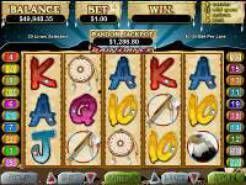 A Wild West themed list is not complete without the presence of some North American Indians. The unlucky tribe in Rain Dance Slots is in need of some relieve from the dry and hot summer that has been challenging them. Will you be able to make it rain in this 20 pay line and 5 reel slot title from Real Time Gaming (RTG)? A creative rain dance might help. Rain will make the chiefs very happy, and they are more than willing to return the favor if you help them out. Before you know it you will be showered under a downpour of precious coins.
3. Restore Law and Order in Six Shot Showdown Slots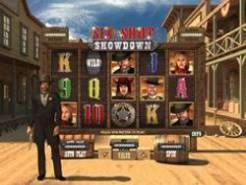 It is time to for an action packed cowboy drama when you take on the challenge of Six Shot Showdown Slots . Once you open the saloon doors to this game, you will be dropped right into the Old West. You better buckle up, because it is a lawless and wild period in time, and there is no shortage of dangerous gunslingers who want to give you some extra holes to breathe through. Be brave and become the hero of the town by getting rid of the outlaws who run it. Violent shootouts are almost unavoidable though, so get your pistols ready and keep a sharp eye on your opponents. It is not only blood and violence that hangs in the air though. A good amount of gold awaits you as a reward for restoring peace and order in this 5 reel and 243 pay line title from Genesis Gaming. Make sure that you spend your reward well and buy everyone a drink in the saloon when it is all over.
2. Go for the Big Winnings with Your Guns Blazing in Western Wildness Slots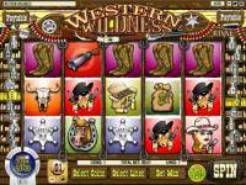 Get ready because things are going to get really wild in Western Wildness Slots from software developer Rival Gaming. You are going to need some cowboy boots, a hat, a big pistol and lots of bullets, because you will travel to the dangerous but exciting new frontier in this action filled title that boasts a total of 20 pay lines and 5 slot reels. The ultimate goal is to go after the gold with your guns blazing. Proof that you are the best shooter who knows how to hit the big winning targets, because then you will become a very rich cowboy.
1. Go after Bandits and Profits in Wild Wild Spin Slots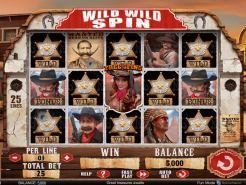 Take a step back into a much rougher time when the highlights of the day where often characterized by heavy drinking sessions in the local saloon, while the entertainment was provided by front porch, dusty shootouts between tough county sheriffs and bullet eating bandits. It was a lawless time, but you will have to choose the side of the good guys in this thrilling 25 pay line and 5 reel slot title from Spin Casino omenal. The bank robbing bandits need to learn to obey to the fragile laws that are put on them by the sheriff. Collect wanted posters with the words dead or alive on them, and then go after the criminals that are displayed on those posters. That is the fastest way to richness in the adrenaline enhancing Wild West experience that is Wild Wild Spin Slots .
Go Wild and Wealthy with the Top 5 Western Slot Titles
Do game elements like saloons, outlaws, cowboys, pistols, shootouts and Indians thrill you as an online slot machine enthusiast? Then you should definitely not miss out on the top 5 western slot titles, because these games give you exactly those Old West elements that you are looking for when you want to spin some reels in online casinos. Go wild and wealthy on the American Frontier today, because the thrilling risks and profitable winnings are definitely worth it.