Slots With Best Bonus Games
When you play video slots, it's the bonus games and features that lead to the best rewards. We spend a lot of time testing out the hundreds of slots that are out there. Over time, we've found several favorites. What makes a video slot bonus game so good? They need to bring something new each time you play. The features may not change, but the results should be so random you never know what to expect. They should take time to play and require luck to be on your side. Those prizes need to be worth the time it takes to play them! These are the games where the bonus features are rewarding and may have you chuckling. Games with snippets from the movie will draw you into the game. Others have great story lines that draw you in. Those are all reasons you'll love them. They're also the slot games that pay out great amounts of cash.
#1 – Avalon II Slots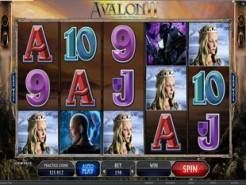 This is the first of two games that pay tribute to the Holy Grail. Avalon II slots has a very rewarding and very exciting bonus game. This Microgaming slot has five reels and the 243-ways-to-win structure. Five bonus features exist and help boost your winnings in a hurry. There's a top prize of 120,000 credits. During the game, Merlin may appear randomly and present you with a multiplier or instant cash. The Lady of the Lake on the third reel is an expanding wild. The Grail Bonus gives you a prize of up to 120,000 credits. There are also eight additional bonus features. They include:
Dusky Moors – Match two helms and win credits of up to eight times your bet.
Forest Falls – Win 20 free spins with Trailing Wilds active during the free spins.
Hall of Shadows – Battle the Black Knight and win back the Holy Grail and collect cash with each successful strike.
Isle of Avalon – Spin a wheel and win prizes.
Lake of Legend – Roll dice and assemble Excalibur and a prize of up to 15 times your total bet.
Misty Vale – Win 15 free spins with an extra wild of your choice and a 2x multiplier.
Morgan's Keep – Win 20 free spins with Rolling Reels giving you a multiplier of up to 6x on consecutive wins.
Whispering Woods – Pick from five shields and win a prize that you can trade twice or collect.
You'll find yourself on the edge of your seat waiting for the next bonus to hit. Avalon II ends up being one of the more rewarding games available today with so many special features.
#2 – Cash Bandits 2 Slots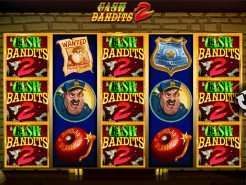 In this five-reel bonus slot, you're a bank robber. The bonus game is the reason we love this game so much. This is a sequel to Cash Bandits Slots . In the bonus game, guess numbers and crack open the vaults. Each time you successfully open a vault, you get more free spins and multipliers. When you get three bandit symbols, the bonus game begins. You automatically get a 2x multiplier and 5 free spins. You can get up to 17x and 190 free spins if you pick well. Each vault has a code ranging from a single digit to 5 digits, so some are pretty easy to crack. If you get the full 190 free spins and 17x multiplier, your winnings build quickly.
#3 – Jurassic World Slots
Ever since Michael Crichton's bestselling novel became a blockbuster movie, the Jurassic Park series have delighted men and women around the world. Jurassic World slots is an equally amazing bonus slot. It's a 243-ways-to-win game where characters, including the dinosaurs, take center stage. You have several bonus features. The Jurassic World logo kicks things off by acting as a wild. It can also form a stacked wild of up to 10 symbols high. The amber is a scatter, but they can also be wilds when two appear on the reels in the base game. Get a prize of 3 to 5 times your bet. If you do this, you trigger the Indominus bonus. If you're lucky, you'll win the full bonus of 1,000 times your bet. There are a few free spins modes. Each one is triggered when you get at least symbols that are embedded in amber. These are the free spin modes:
Creation Lab – Gain 10 free spins. Each winning combination drops from the screen and new symbols cascade into place to, hopefully, create new winning combinations. You might also land sticky wilds on the third reel during these free spins.
Gyrosphere Valley – Gain 10 free spins with stacked wilds. You also get a 2x multiplier that can increase to 10x if the reels aren't stopping and revealing a winning combination.
Raptor Den – Gain 10 free spins with scatter wilds and a sticky wild. You can retrigger this free spins bonus and add 5 more spins to your free spins counter.
You can win up to 14,000 credits in Jurassic World slots. Imagine what it would feel winning that in just a spin or two? As you play, you're treated to some amazing graphics and sounds, too.
#4 – Monty Python and the Holy Grail Slots
Created using characters and scenes from the cult classic Monty Python movie, Monty Python and the Holy Grain slots has a bit of everything. Start with the wild Holy Grail. It will move across the reels when it appears and leaves extra wilds in its place. The Quest of Camelot symbol on the first, third, and fifth reels trigger free spins. Pick a shield to start. It will be from one of three modes. Pick more shields until the open slots are filled under one of the three modes. You'll win the number of free spins and modifiers that have filled the slots. Here's a breakdown. Castle of the Britons Modifiers:
The French catapult sends cows flying onto the reels for extra wilds.
French invaders fart in your general direction and add wilds.
The nuns of Castle Anthrax get spanked and lock freeze wilds.
The Trojan Rabbit creates stacks of wilds on the reels.
The Cave of Caerbannog Modifiers:
The Black Beast of Arrrgh leaves wild stacks where he passes.
The Holy Hand Grenade creates grids of wilds.
The Killer Rabbit creates sticky wilds.
Tim creates explosive wilds that freeze in place.
Forest of Bravery Modifiers:
The Black Knight's and his "only a flesh wound" adds wild stacks to the reels.
Brave Sir Robin leaves wild stacks as he flees.
The Knights who say Ni say forbidden and turn symbols into wilds.
The Three-Headed Knight turns four surrounding symbols into wilds.
If you're a fan of the movie, you'll love this bonus slot.
#5 – Pink Panther Slots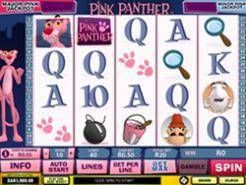 Not only can you win a maximum of 5,000 coins per line, but the bonus features in Pink Panther slots are amazing. You have two progressive jackpots that you could win with one of the random bonus games. There are also several bonus features that trigger at random.
Crack the Pink Bonus – Open the 10 safes and see what you win. You get to keep picking until you hit a safe full of dynamite. You can win expanding wilds, free spins, or multipliers.
The Color Pink Bonus – Pink Panther squares off against the Little Man to paint the fence. You win the amount of cash that Pink Panther is able to paint. If you don't like the amount, you can try two more times to get a larger amount of cash.
The Jackpot Adventure – Open 1 of 12 doors. If you find 5 pink panthers first, you win the Major Pink jackpot. If you find 4 Inspector Clouseau's first, you win the Minor Pink jackpot. If you find 3 Little Man characters, you win a consolation prize.
The Pink Pow Bonus – Pink Panther blows up. When he does, he turns as many as six symbols into wilds.
The Pink Trail Bonus – This time Inspector Clouseau is on the Pink Panther's trail. You get four rounds to find the stolen diamond. Footprints give you a multiplier that is applied against your total bet. When you make it to the final round or find "collect," the cash you've won is awarded to you. Watch out for traps along the way!
The Wheel of Pink Bonus – Spin the prize wheel. There are two rings on this wheel. The internal ring shows "respin" or "collect." The outer ring is a cash prize. Keep spinning and building cash until you get "collect."
There's one more special feature in Pink Panther slots. After winning a prize in the base game, you're welcome to gamble your winnings and try to double it. To do so, pick the card that you think is higher than what the dealer has drawn.
What Do You Think the Best Slot Bonus Games Are?
Are you ready to sit down and simply have fun? All of these slots deliver just that – fun. And, what could be better than winning cash while you're having fun? Try these games and many others at today's leading online and mobile casinos. You may love these games or find others that you think are better. No matter what you feel the best slot games are, be sure you're getting the most out of your casino experience. Rely on Best Paying Slots to give you the latest on slots, casinos, and casino promotions. Visit today.