Play the best 3-reel slots at Bovada Casino
Are you a traditionalist? Do you like nothing better than to find a slot game with three reels instead of the five reels many other modern slot games have?
If the answer is a big yes, you may be interested to know that Bovada casino has a huge number of three-reel slots for you to choose from. They are superbly easy to find as well, as we are about to reveal to you.
Where should you look?
When you are in the casino, choose the slots option and then look for a downward arrow next to the word slots in the yellow bar. When you see this, click on it to reveal a menu. Near the bottom of the menu is an option to select three-reel slot games. Do this to be taken to a page with just those kinds of games revealed.
How many three-reel games are there to choose from?
There are more than two-dozen games in the collection, so you should be able to find something that appeals to you.
Among the examples you can try is Snow Wonder. This features a snowman and a suitably wintry theme, but it works on three reels and a single payline. There are various Christmas-themed symbols here, along with sevens and bar symbols as well. It has the appearance of a five-reel slot (you'll see what we mean when you take a look) which is refreshing in the world of three-reel examples.
Elsewhere, you could try Red, White and Bleu. As the play on words reveals, this game relates to food - cheese and grapes to be precise - as well as more traditional symbols. It has the same look as the previous game we mentioned above, so if you like that you will probably like this as well.
Milk the Cash Cow is the third example we can give you. This is a great game with a great title, but it looks a little more like a traditional three-reel game in that the pay table is on the left rather than on a separate screen. Play from one to three coins on the payline and you will increase the value of each prize you win if you play with more coins.
Try some three-reel options at Bovada today
Bovada Casino has plenty to offer in the way of these slot games. Why not head there today and see how many of them might bring you luck!
Ten Times Wins Slots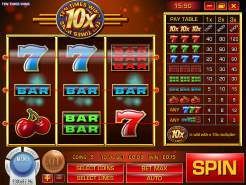 Ten Times Wins slots has gained quite a following since its release. This three-reel slot game has a top prize of 5,000 times your coin. That coin can be worth as much as $10, so there's the potential to win $50,000 with three 10x symbols. In addition to the top prize, the 10x symbol multiplies your prize by 10 when it's part of the winning combination. That helps you gain some substantial payouts as you play.
Strike Gold Slots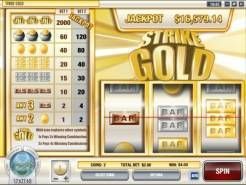 With a large progressive jackpot, Strike Gold slots is popular for good reason. You win that progressive jackpot by getting three Strike Gold logos. If you get two or three of them, you'll win a multiplier of 2x or 4x, respectively. You only have two bet two coins on the single payline in this game, so you don't have to bet much to win thousands.
Milk the Cash Cow Slots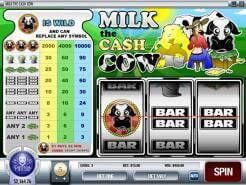 All it takes to win the big prize are three cows. Get that winning combination and win 10,000 times your bet. The cow is a wild, so it also multiplies prizes by up to 3x. Bet one, two, or three credits to play this three-reel slot. If you have your eye on the big prize, make sure you're wagering all three credits!
Heroes Realm Slots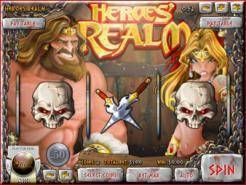 Not every three-reel slot game has special features. Heroes Realm slots does. If you get two of the swords, you win 10 free spins. If you're lucky enough to fill the single payline with the sword, you win 50 free spins. In addition, the skull symbol is a scatter that triggers a battle bonus round. Pick your hero and battle the invading skeleton army for cash rewards.